Gas pressure regulator RDU-T (with a heat generator)
Продукция
<
Gas pressure regulator RDU-T (with a heat generator)
Gas pressure regulators of the RDU-T type with a heat generator are designed for automatic regulation of gas pressure "after itself" of the set value at the facilities of high pressure gas pipelines.
They are used at:
Gas distribution stations.
Gas purification and dehydration installations.
Gas fields.
Compressor stations, etc.
Static single channel regulators are made in the climatic version "U" category 1 according to GOST 15150-69.
The regulators are designed for operation at ambient temperatures from +50 C to -40 C and relative humidity up to 95% at a temperature of +35 C.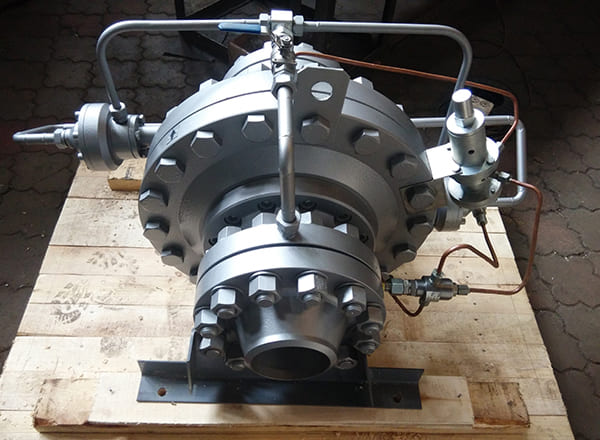 Distinctive features of RDU-T regulators:
The RDU-T regulators differ from the RDU regulators of the same class by the heating of the shut-off and regulating device in the zone of gas throttling using specially mounted heat generators which operate without an external energy source by taking a part of the kinetic and potential energy of the compressed main gas.
The heating temperature is sufficient to prevent hydrate formation processes.
Advantages:
The simplicity of the operation.
Possibility to automate the reduction process.
Heating is produced without any additional costs by the energy separation of the gas flow.
Technical Specifications of RDU-T
Name of the main parameters
RDU-T 63/100
RDU-T 100/50
RDU-T 100/80
RDU-T 100/100
RDU-T 100/150*
Nominal diameter, mm
100
50
80
100
150
Maximum input pressure, MPa (kgf/cm2)
6,3 (63)
10,0 (100)
10,0 (100)
10,0 (100)
10,0 (100)
Operating medium
Natural gas
Input pressure change range, MPa (kgf/cm2)
1,2 (12) або 4,0 (40) в залежності від задатчика
Output pressure setting range, kgf / cm2
0,15 (1,5) или 1,2 (12)
Type of connection to the gas pipelines
Type of connection to the gas pipelines Flanged according to GOST 12821-80 version 3
Installation position on the pipeline
horizontal
Permissible output pressure fluctuations
± 5 % of nominal value at input pressure fluctuations ± 25% ± 2.5 % in the gas flow range of 10% to 100% +5 ...10 % - regulator closing pressure The same inaccuracy is possible at the regulator operation modes in the boundary ranges of settings and the range of gas flow rates less than 10 % of the designed one.
Weight, kg
100
135
185
170
475
Overall dimensions of RDU-T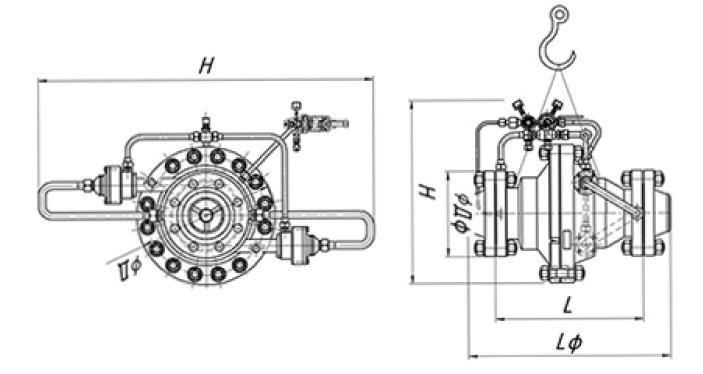 | НАИМЕНОВАНИЕ ПАРАМЕТРОВ | Ду, мм | Dф, мм | D, мм | Н, мм | В, мм | l, мм | L, мм |
| --- | --- | --- | --- | --- | --- | --- | --- |
| RDU-T 63/100 | 100 | 250 | 405 | 980 | 535 | 435 | 590 |
| RDU-T 100/50 | 50 | 195 | 290 | 700 | 550 | 320 | 460 |
| RDU-T 100/80 | 80 | 230 | 340 | 730 | 580 | 400 | 580 |
| RDU-T 100/100 | 100 | 265 | 405 | 980 | 535 | 435 | 590 |
| RDU-T 100/150* | 150 | 350 | 610 | 740 | 1190 | 520 | 777 |
Recommended schematic of mounting and fitting the gas regulators of RDU-T type