The manual gas odorizing complex KSOG-1K
Продукция
<
The manual gas odorizing complex KSOG-1K
KSOG-1K odorizing complexes manufactured by the gas equipment plant Kontakt LLC (Druzhkivka, Ukraine) are designed to supply microdoses of odorant to the natural gas flow supplied to consumers to provide odorization for timely leakage detection. The degree of odorization is set manually using a needle dosing valve. KSOG-1K is designed for installation at low-flow gas distribution stations, where the installation of expensive automatic odorization may not be cost-effective.
The complex is designed for operation at ambient air temperature from minus 40 to plus 50°С with relative humidity up to 95%.
The complex performs the following main functions:
Manual regulation of odorant dosing in proportion to the current gas flow rate at the facility by setting the dosing needle valve.
Visual control of the odorant level in the supply tank.
Visual control of dosing.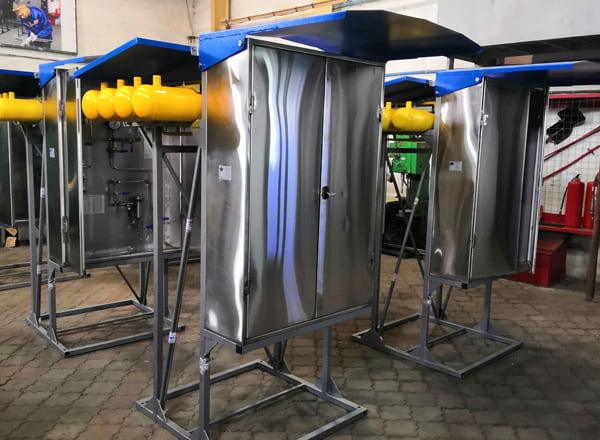 The design version of KSOG-1K enables, if necessary, to build a complex of gas automation and odorization devices into the equipment with minimum modifications, available for performing the operating organization on their own.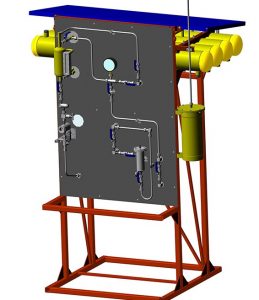 The latest design solution of the gas odorizing complex KSOG-1K is performed with the connection of the pipeline, using a combined stainless steel tube with a double crimp ring (metal to metal connection).
The service life of the complex subject to compliance with the rules of operation is 12 years.
Technical Specifications of KSOG-1K
Name of the main parameters
1KSOG-1K model
2KSOG-1K model
Design version
100/1
100/1
Working pressure, MPa, not more than
1,6
6,3
Volume of the operational tank, l
100
Volume of the consumable tank, l
1*
Odorant consumption, g/1000m3
6-16
Minimum flow rate of the odorized gas at the odorizing facility, m3/hour
100
Maximum odorizing gas flow rate at the odorizing facility, m3/hour
100000, functionally reasonable consumption is up to 8000
Branch pipes connection dimensions DN, mm
10
Overall dimensions of the complex of 01 version, mm
Length
1125
Width
1740
Height
2050
Weight, kg, not more than
300
310