<
Automatic gas odorizing complex KSOG-4K
Kontakt LLC has developed and put into serial production the gas odorizing complexes of the KSOG-4K in several modifications adapted for operating conditions and requirements of a particular customer.
Purpose of the equipment:
The automatic complex of gas odorization KCOG-4K is designed for the dosed supply of odorant, ethyl mercaptan – C2H5SH or mixture of mercaptans to the natural gas flow supplied to consumers to provide odorization for timely leakage detection.
The complex KCOG-4K is used as an automatic gas odorizing unit at gas distribution stations (GDS) for enterprises and settlements, as well as for CNG filling stations.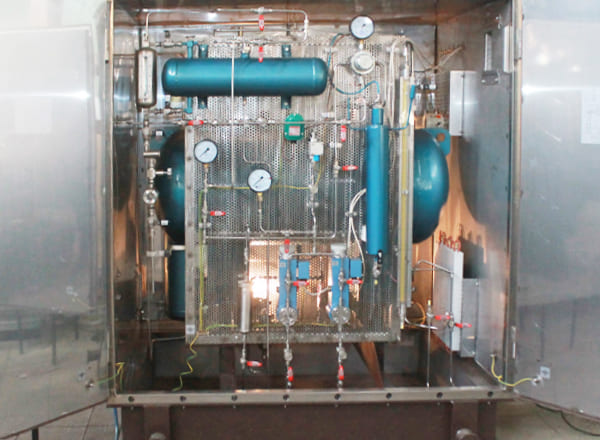 The main functions of KSOG-4K:
Readout of information about the current gas flow rate from a calculator via RS-232/485 interface or via a discrete channel.
Automated regulation of odorant dosing in proportion to the current gas flow rate at the facility (automatic mode).
Accumulation of the data on the odorant consumption, accidents and events in the internal archive of the nonvolatile memory.
Control of dosing by the last values of gas flow rate in case of interruption of information connection with the flow meter of the facility recording unit or its failure and transition to the preset flow rate values after the specified time expires (semi automatic mode).
Continuous control of dosing by the feedback using a flow meter.
Visual control of the odorant level in the consumption tank.
Visual control of dosing in automated and manual modes.
Sending the "Fail" signal to external alarm devices in case of failure, power supply failure, signal loss from an external source;
The emitting of audible and blinking indicator signal "Failure" in case of emergencies.
The automatic odorization process is provided by the joint operation of the dosing membrane pump MLEx and a WDK micro flow meter manufactured by Bilfinger EMS GmbH, Germany, by changing the time interval between the dosing of odorant, strictly depending on the gas volume flowing through the pipeline.
The KSOG-4K complex provides the required degree of odorization for all types of the odorant, from 5 to 32 g/1000 m.
According to individual requirements, the volume of odorant can be changed depending on the customer's needs.
The set of the KSOG-4K complex is subject to mandatory agreement with the Customer before delivery and can be changed depending on the specific conditions of the facility operation.
The KSOG-4K odorizing equipment of its own design by the Kontact LLC has all necessary authorization documents and Certificates (get more detailed).
Technical Specifications of KSOG-4K
| Name of the main parameters | The Value |
| --- | --- |
| Working pressure, MPa, not more than | 1,6 |
| Odorant type | ethyl mercaptan (С2Н5SН), a mixture of natural mercaptans (SPM-1), tetrahydrothiophene (С4Н8S) |
| Odorization rate, g/1000 nm3, within limits | 5…16 (for С2Н5SН) 16…32 (for С4Н8S) |
| Relative deviation of the odorization rate, % | ± 2 |
| Odorized gas flow range, nm3/year | 50 - 20,000 (MLEx026.4/6 pump) |
| Odorant storage capacity, liter | Depending on modification |
| Power supply voltage of cabinet heating (frequency 50±1 Hz), V | 220 +22 -33 |
| Operational and backup power supply voltage, V | 24 ±4 |
| Electric power consumption excluding cabinet heating during the winter period, W, not more than | 100 |
| Electric power consumption of the heating system during the winter period, W, not more than | 600 |
| Diaphragm metering pump with electromagnetic drive The pump capacity is selected according to the gas distribution station's actual flow rate | MLEx 026 4/6 |
| Micro flow meter | WDK 5.2 Gr1 |
| Weight, kg, not more than | 1300 |
| Overall dimensions, mm, not more than | |
| Cabinet | 1745 х 1372 х 2000 |
| Control unit | 200 х 440 х 620 |
Design model of the complex KSOG-4K