Gas pressure regulator RDO-E, axial gas pressure regulator with elastic gate
Продукция
<
Gas pressure regulator RDO-E, axial gas pressure regulator with elastic gate
Gas pressure regulators of RDO-E type are axial pressure regulators with an elastic gate designed for automatic control of gas pressure "after itself" at high-pressure gas pipeline facilities i.e. gas distribution stations, gas purification and dehydration plants, gas fields, compressor stations, etc.
Regulators are "normally open", unlike regulators of RDU type and RD-M type, mass-produced by the LLC named "Kontact".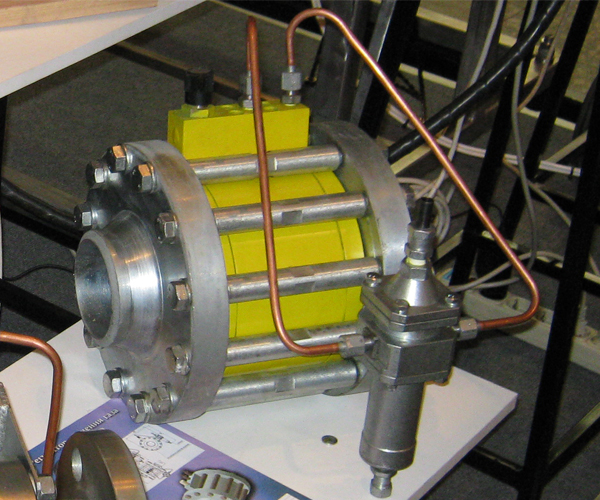 Distinctive features of the regulators of the RDO-E type:
Smoothness and highest accuracy of operation.
Tightness at the fully closed position.
Possibility to automate the reduction process.
Besides regulators with nominal diameter DN=100mm, we are planning to develop and master the production of regulators RDO-E with a nominal diameter of 50mm and 25mm.
Technical Specifications of RDO-E
| Name of the main parameters | Values |
| --- | --- |
| Maximum inlet pressure, PN, MPa | 10 |
| Nominal diameter, mm | 100 |
| Operating medium | Natural gas at temperatures of -30...+40°C |
| Setting limits, MPa | 0,1...1,2 (либо 1,2...4,0 depending on setting device) |
| Type of connection to the pipeline Special flanged connection. The flanges are supplied as part of the regulator. | Special flanged connection. The flanges are supplied as part of the regulator. |
| Installation position on the pipeline | any |
| Permissible output pressure fluctuations ±2.5% of nominal value at input pressure variations of ± 25%. ±1.5 % in the gas flow range from 10 % to 100 % | ±2.5% of nominal value at input pressure variations of ± 25%. ±1.5 % in the gas flow range from 10 % to 100 % |
Scheme and overall dimensions