Manual KRP straight-way ball valve
Продукция
<
Manual KRP straight-way ball valve
Straight-way ball valves of the KRP type are designed for installation on pipelines transporting non-aggressive gaseous medium with temperatures up to 100 ° C., on the lines of technical control, etc.
You can buy a manual straight-way ball valve of the KRP type in different modifications.
According to your order, we can design and manufacture a valve with the required parameters and design features from DN 20 to DN 300 with a nominal pressure from PN 1 to PN 320 kgf/cm2.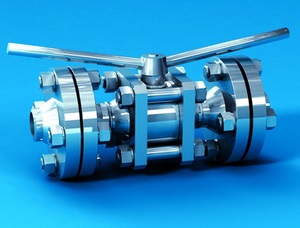 Technical Specifications Manual KRP straight-way ball valve
Name of the main parameters
10-50 KRP
10-80 KRP
10-100 KRP
16-50 KRP
16-80 KRP
16-100 KRP
Nominal diameter DN, mm
50
80
100
50
80
100
Nominal pressure PN, MPa
8,0
8,0
8,0
16,0
16,0
16,0
Transported medium
Natural gas
The temperature of the transported medium oС
Up to +80
Tightness of the shutoff valve
according to the 1st class of GOST 9544-75