Automatic gas odorizing complex KSOG-2K
Продукция
<
Automatic gas odorizing complex KSOG-2K
KSOG-2K odorizing complexes are designed to supply microdoses of odorant to the natural gas flow supplied to consumers to provide odorization for timely leakage detection.
Their distinctive feature is that the degree of odorization is regulated automatically depending on the volume of consumed gas.
The complex can operate in one of three modes:
Automated
Semi-automatic.
Manual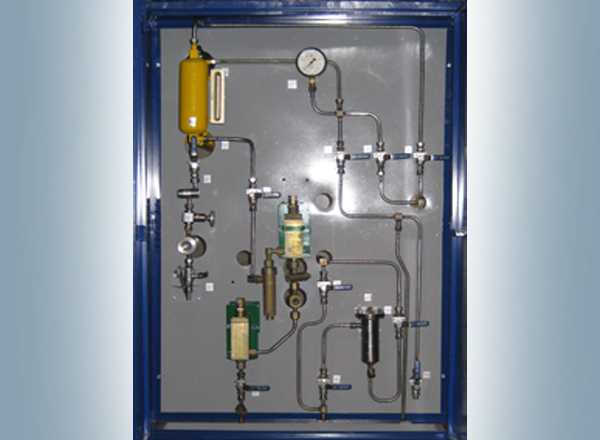 The complex performs the following main functions:
Reading the information about the current gas flow rate through the RS-232/485 interface.
Automated regulation of the odorant dosing in proportion to the current gas flow at the facility (automatic mode).
Reading and accumulation of data on the odorant consumption in the internal nonvolatile memory archive with the storage capacity: data for the last 31 days (readout once per hour); daily data for the last 365 days (readout once per day); monthly data for the last 3 years (readout once per month).
Control of dosing by the last values of gas flow rate in case of interruption of information connection with the flow meter of the facility recording unit or its failure and transition to the preset flow rate values (setpoint) after the specified time expires.
Continuous control of dosing by the feedback using a flow sensor.
Visual control of the odorant level in the consumption tank.
Visual control of dosing in automated and manual modes.
Visual confirmation of dosing by the indicator light during the time of passing the dose.
Sending the "Fail" signal to external alarm devices in case of failure of the dosing valve or flow sensor, power supply voltage interruption, or the loss of control pulses from an external source.
The emitting by the pulse generator of an intermittent audible and blinking indication signal indicating that the dose has not passed by the "Fail" signal.
The KSOG-2K includes:
KSOG2 control panel.
Pulse generator.
Electromagnetic valve type KE-d-16.
Electromagnetic protection valve type KE-d-16.
Liquid flow sensor DP-6.3.
Filter cartridge FОK-1.
Filter sump FO-1.
Liquid filter F-6.3.
Throttle needle valve.
Operating tank.
Consumable tank.
Visual control device – 2 pcs.
Level indicator PR-6.4.
Control panel KSOG-2, the electromagnetic valve of KE-d-16 type and the liquid flow sensor DP-6.3 were granted the Explosion protection certificates No. 2410 and No. 2412 by the Donetsk Testing and Certification Center with marking them as 1ExdIIAT3.
Technical Specifications of KSOG-2K
Name of the main parameters
1KSOG-2K model
2KSOG-2K model
Volume of the operational tank, l
50 - 75 - 100
50 - 75 - 100
Working pressure, MPa, not more than
1,6
6,3
Volume of the consumable tank, l
1
Odorant consumption, g/1000m3
6-16
Minimum flow rate of the odorized gas at the odorizing facility, m3/hour
100
Maximum odorizing gas flow rate at the odorizing facility, m3/hour
1 000 000
Device power supply voltage, V
12+2,4
Maximum power consumption, W, not more than
27
Branch pipes connection dimensions DN, mm
10
Overall dimensions of the complex of 01 version, mm Length Width Height
1125 - 1740 - 2050
1125 - 1740 - 2050
Weight, kg, not more than
170 - 210 - 250
170 - 210 - 250